Would you like to sponsor a dog?
On our homepage you will find many pictures of happy dogs. But it is often a long way until they are doing so well. Many furry noses come to our PLACE for STRAYS sick, injured and scared. Before they can be admitted to our quarantine enclosure, they are examined by the vet and blood tests are carried out. Often, diseases are then detected for which a treatment plan is drawn up. All this costs money – and without the support of animal-loving people, we would not be able to help these furry noses!
With a sponsorship you contribute to the care, vaccination, castration and protection from ticks, fleas and worms.
How to arrange a sponsorship?
Either you choose a dog from the "Our protégés" page and contact us about your sponsorship choice, or you just tell us that you would like to create a sponsorship for any fur nose and we will then suggest one to you. For getting in contact with us you can use the form at the end of this site.
By creating a sponsorship you declare yourself ready to support your fur nose with at least €10  (Ten Euros) per month. You can transfer the money by standing order or monthly via PayPal. The sponsorship usually continues until the dog leaves the PLACE for STRAYS, but cancellation can be at any time at your discretion.
All sponsors receive a sponsorship certificate. Our team member Daniela Bechtloff will also provide you with information and pictures of your 'godchild' at least once a month.
How the money collected is allocated is detailed in our financial report on our Facebook page released on the last day of each month. There we publish all receipts and payments together with our bank statements. It is one of our top priorities to work in a transparent way and to really use every penny for our furry friends.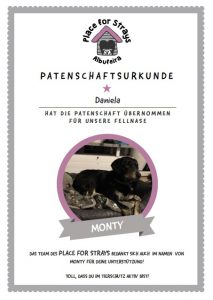 How does a Name Auction work?
Many of the dogs we take in at PLACE for STRAYS are nameless, as they are often abandoned strays or strays born and raised on the streets. For these dogs, we offer name auctions on our Facebook page, where anyone can suggest a name with a bid or join someone else's suggestion. The dog gets the name with the highest bid and all those who bid on this name receive a beautiful name sponsor certificate.
Would you like to become a godparent?
☟Then please fill out the contact form below! ☟